3rd Monaghan Scout Centre

In 2007 the Scout Group purchased a plot of land to develop as a group campsite on Coillte lands at Dun Na Ri forest park in Kingscourt, County Cavan. That marked the end of an almost ten-year search for a local campsite and marked the beginning of a new and exciting era for the Scout Group.
We now have a beautiful modern Scout Centre set amidst the beautiful forestry of the Dun a Ri Forest Park. The campsite field itself is akin to a football field with just a slight fall off for drainage purposes. It's like camping on a lawn!
The ground is well drained, and the camping field is fully serviced with water points throughout. The site is fully fenced off for total safety for all the young people who camp here.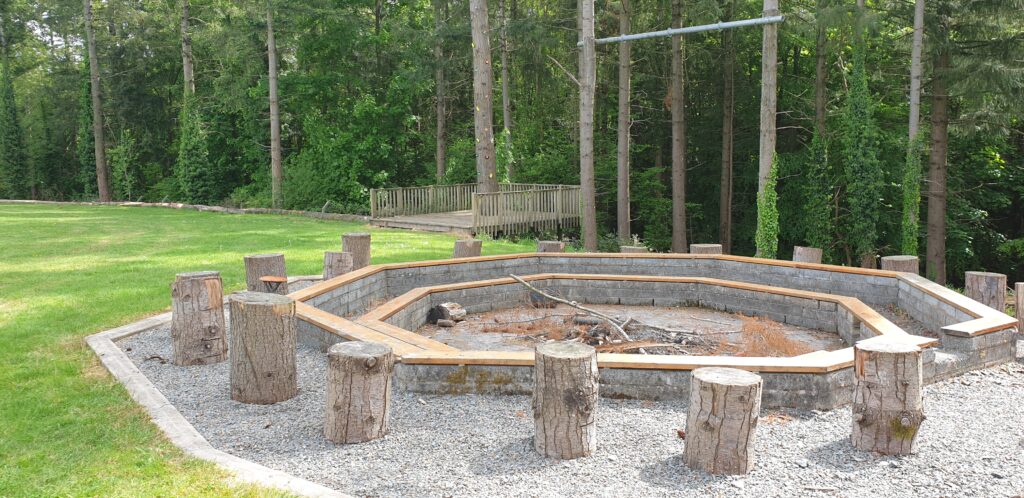 Campfire circle, crate stacking area, tree climbing area, assault course orienteering, back woods area and many places to hike within the forest park.
The centre lends itself well to pioneering and there is pioneering timber available on site for use in these activities.
Indoors
Recently the Group has provided a new indoor centre to further enhance the centre. This beautiful state of the art natural stone building can sleep 32 in our 3 dormitories. There is also a kitchen, full suite of toilets and showers for both male and female. Read more about our indoor facilities.
Camping Equipment
A camping equipment store is stocked with the latest camping tents and equipment. Gear is available for rent for any group or for international Groups who would like to travel light. By arrangement any international group need only jump on a flight with their rucksacks and hire all the camping gear on site to enable them to have a great scout camp.
Getting Here
The 3rd Monaghan Scout Centre is halfway between Dublin and Belfast and is an ideal base to explore both cities on day trips. Other day trips and activities can be arranged locally including canoeing, mountain hikes, wind surfing, horse riding and go karting to name a few.
So, what's keeping you? Get booking your weekend or weeklong camp or why not use it as one off your stopovers on your own wild adventure trip around Ireland.
The Scout Centre is only open to Scouting and Girl Guide groups affiliated to their national organisations. All Groups using the site must adhere to and work under Rules and Constitution of their organisations.
Booking
Booking form:
https://docs.google.com/forms/d/1sfJ5ole-_bWHN7_5BxcElDdZQ8PqYCsJxk7U0owIKS4/viewform?edit_requested=true
Or for more info please get in touch at: