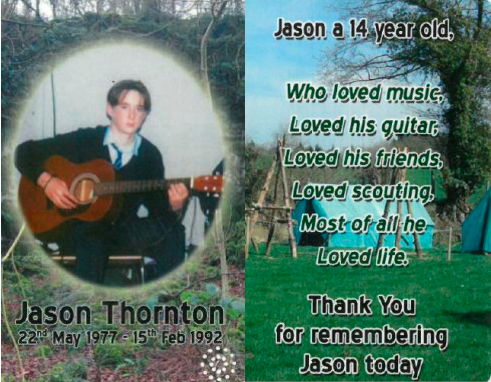 Hi All,
Hope you are all keeping safe and well.
This year is Jason Thornton's 29th anniversary. Unfortunately due to the current restrictions and Government guidelines it is not possible for us to mark Jason's anniversary and hike as a group in our usual way. It is important to us to remember Jason and the Thornton family and we have decided that the Group leader will represent the group and hike the usual route.
We will be starting from the Scout hall at 11am Sunday 14th Feb.
We are asking you all to participate in remembering Jason by doing a social distanced family hike within 5km of your own homes and join us in your thoughts and prayers on that day.
You can take pictures of your hike and send them to me on Whats App on 087 6687 246 and we will put them up on Facebook and the website to commemorate Jasons memory.
Thank You.
The leader team.
Jason Thornton Memorial Trail