So what is Komeer?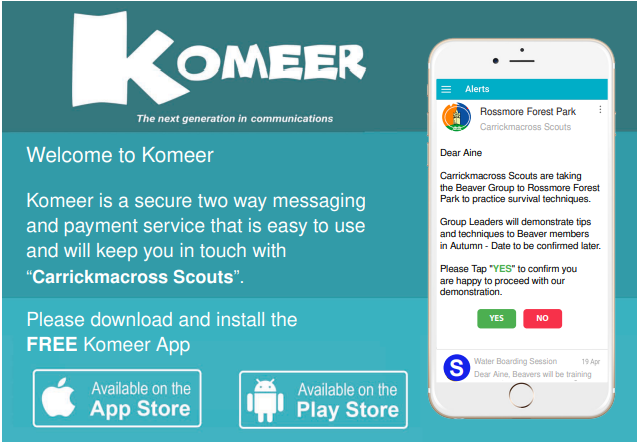 Komeer is a simple & secure 2 way messaging and payments system which is GDPR compliant. It is used by hundreds of county councils, An Garda Síochána, schools, community alerts, scouting groups and other clubs around the country.
We will be using it this year to send messages, details about activities and payment requests.
To use the app all you need is to download it from the Google Play store or Apple store, register your details. You will need an email address or Facebook account to sign up with. Make sure to include your children who are youth members. Once you have this done search in groups for Carrickmacross Scouts and request to subscribe.
🌟 And don't forget to allow app notifications so that you get our messages! 🌟
When we receive this request we will accept you and allocate your child to the relevant section e.g. beavers, scouts etc. From then on you will receive any messages, payment requests etc, which are relevant to your child. Sometimes the messages might require a response, but this is really simple as you will have yes no or maybe buttons only and it's just a question of tapping one of those and we will receive your reply.
When you receive a payment request again there will be a button you tap which says pay now and this will take you into a secure online payment system where you can use any credit or debit card to make payment. Once payment has gone through you will receive an email receipt for your records so there's no more worries about losing paper receipts. We will also receive notification through Komeer that you have made payment and will therefore not receive any further communications in relation to this payment. What's more Carrickmacross scouts will be paying the fees for these online payments so there are no hidden extra charges to worry about.
So what is Komeer – Simple, Speedy & Secure!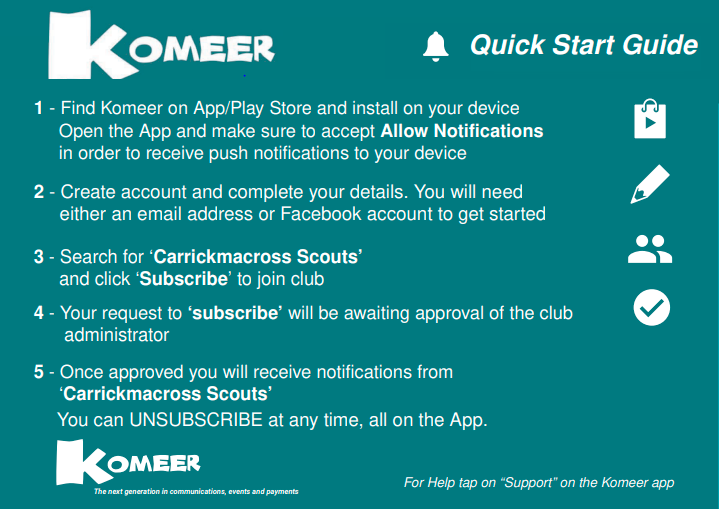 Komeer for messaging and payments